Contingency: Parts That Pay
We put in parts that pay. TCI, Hughes, and B&M are all major racing-sponsors whose parts we use. So when you pull up to the line and you're in the final round at a national event, you're going to get a little extra money from the sponsors whose stickers are on your car. Our transmissions enable you to put more stickers on your car.

So not only do our transmissions help you win, they also help you get paid more when you win.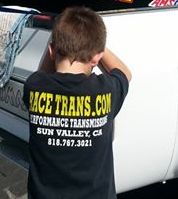 RaceTrans Now has T-Shirts available. Buy one today and show your support for RaceTrans! $20 with free shipping!