Transmissions
(click on logo for selection)

Contact:
Sales@racetrans.com
General Motors Racing
Transmissions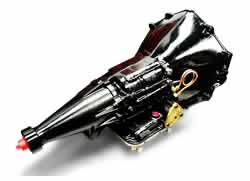 Powerglide

Powerglide Pro

Manual stock case 1.76 gear set, forward manual valvebody, HD steel clutch hub, 5 clutchs high gear, stock input shaft, rebuilt pump, front band,

Call


Super Pro

Stock case 1.76 OEM gear set, New Alto Red Eagle band & clutch pack with Kolene steels, Steel Hub for high gear, RaceTrans Pro brake, 300M input shaft, rebuilt front pump, and Deep Aluminum pan.

$2,250

Sportsman 1

Stock case, 1.76 pro gear set, 300M input shaft, New Red band & clutch pack w/Kolene, Steel hub for high gear, RaceTrans Pro brake, Rebuilt Pro Pump w/HD stator, Deep Aluminum pan.

$2,675.

Sportsman 2

Aftermarket case, Aftermarket Pump, 1.98 gear set, 300M input shaft, New Alto Red Eagle Band, Alto Red Eagle powerpack clutches, Pro Brake, Deep Aluminum pan,

Std Length $3,999

Shorty $4,099

Sportsman 3

Aftermarket case, Aftermarket pump, 1.76 or 1.80 gear set, 300M input shaft, New Alto Red Eagle band, Alto Red Eagle powerpack in High gear, Pro Brake, Deep Aluminum Pan.

Std Length $3,899

Shorty $3,999

Ultimate Sportsman Package

Aftermarket C

ase and tailshaft, Aftermarket pump,

Aftermarket

1.80 gear set, 300M input shaft, Alto Red Eagle band, 10 Clutch High Gear Drum, Alto Red Eagle Reverse clutches and Kolene Steels, Pro Brake, Billet Output Support, Deep Aluminum Pan, Overflow Tank, Fill tube assembly.

Standardor Shorty $4,900

Roller bearing extra

TH 400

TH400 Pro

Competition fwd pattern, Alto Red Eagle w/Kolene, 34 element sprag, Power Pack in 2nd gear, roller bearing rear thrust, deep pan.

$1,575

TH400 Super Pro

Competition rev pattern aluminum valve-body, Alto Red Eagle w/Kolene, 34 element sprag, Power Pack in 2nd gear, deep pan.

$1,825

TH400 Sportsman 1

Transbrake valve-body, Alto Red Eagle w/Kolene, 34 element sprag, deep pan.

$2,125

TH400 Sportsman 1 with Low Gear

Transbrake valve-body, 2.75 low gear-set Alto Red Eagle w/Kolene, 34 element sprag, deep pan.

Call

TH400 Sportsman 2

Transbrake valve-body, Alto Red Eagle w/Kolene, aluminum high gear drum, 2:10 high gear set, deep aluminum pan.

Call

TH 350

TH350 Pro

Competition fwd pattern, Alto Red Eagle w/Kolene, Transgo Manual Shift, HD intermediate race, Stock depth chrome Pan.

$1,575.00

TH350 Super Pro

Competition rev pattern valve-body, Alto Red Eagle w/Kolene, TCI 38 Element drum, aluminum deep pan.

Call

TH350 Sportsman 1

Transbrake valve-body, TCI 38 element drum, Alto Red Eagle w/Kolene, drive shell modified with bearing, deep aluminum pan.

Call

TH350 Sportsman 2

Transbrake valve-body, Aluminum high gear drum with 38 element, Alto Red Eagle w/Kolene, drive shell modified with bearing, Low gear set, aluminum deep pan.

Call
Aluminum Deep Pan Additional Except Where Noted.
Prices Subject to change and do not include CA Sales Tax or Shipping except where noted
RaceTrans transmissions are REMANUFACTURED not REBUILT. What's the difference? When we remanufacture a transmission, in addition to new high performance hard parts, clutches, filter and gaskets; we replace all seals, bushings, bearings, thrust washers and sprags.
To better assist us in building YOUR transmission Please fill out and return via e-mail our specification sheet
(link opens an excel file on your computer. If you can't open the file use this page)
Click Here for Transmission Shipping Details